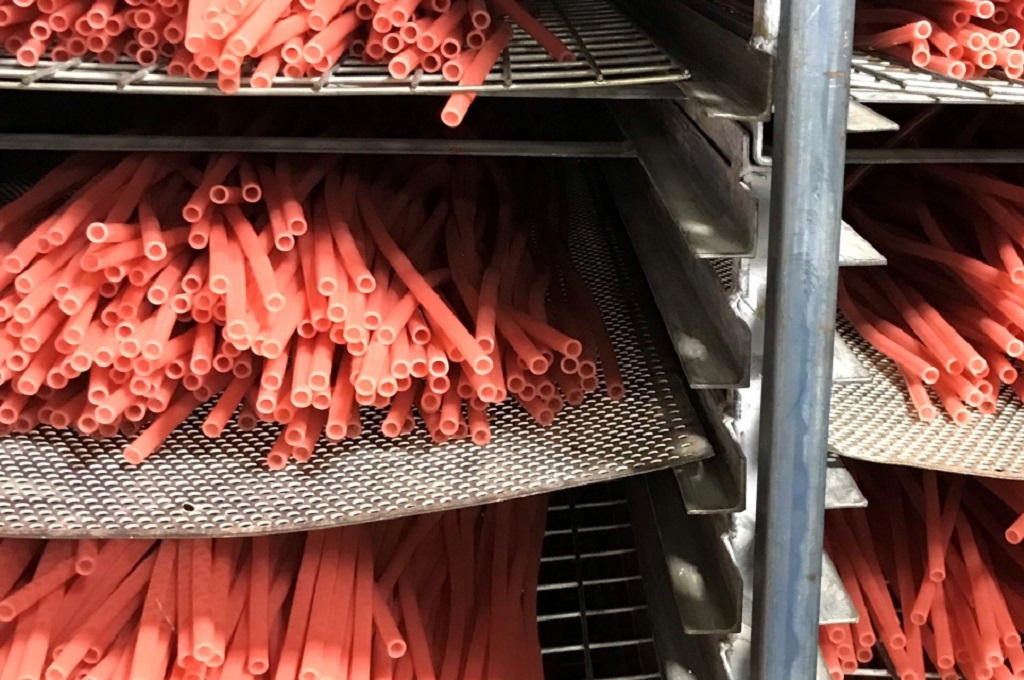 Advantages of Silicone Products
posted by:

Jehbco Silicones

No Comments
Jehbco Silicones manufactures extrusions which are made from 100% pure silicone elastomer and exhibits the characteristics of both inorganic and organic materials, which offers a number of advantages not found in other organic rubbers, such as [1][2];
a) Excellent resistance to heat and cold
Silicone rubbers have a broad operating temperature of -50°C to around +250°C for addition (e.g. platinum) cured and around +300°C for peroxide cured. Furthermore, it exhibits only slight changes in physical properties between -50°C to +180°C.
In terms of heat resistance, silicone rubbers can be used indefinitely at 150°C with virtually no change in its properties and can be used for 10,000 hours of more at 200°C.
Table 1 Operating life and temperature of silicone rubbers before any changes in properties.
| | |
| --- | --- |
| Operating Temperature (°C) | Operating life (hours) |
| 150 | Indefinite |
| 200 | 10,000 |
Whereas in terms of cold resistance, the embrittlement point of silicone rubbers is -60° to -70°C, as opposed to typical organic rubbers which is between -20° and -30°C.
Table 2 Cold resistance comparison between organic rubbers and silicone rubbers.
| | |
| --- | --- |
| Product | Embrittlement Point (°C) |
| Organic rubbers | -20 to -30 |
| Silicone rubbers | -60 to -70 |
b) Higher longevity in hostile environment.
On top of its excellent thermal resistance, silicone rubbers also have exceptional weatherability. It can be exposed to wind, rain and UV rays for extended periods of time with almost no change in its physical properties. Hence, it has higher longevity in hostile environment compared to organic rubbers. Furthermore, when phenyl groups are added to the polymer molecules, silicone rubbers are able to resist radiation and can be used in the manufacturing of cables and connectors used in nuclear power plants.
c) Good flame retardancy
Flame retardancy and/or self-extinguishing properties can be added to silicone rubbers by adding a small amount of flame retardant. When they do burn, unlike organic polymer rubbers, silicone rubbers do not produce black smoke or noxious gas. Hence, silicone rubbers are suitable to be used in consumer electronics and business equipment that are used in closed spaces such as aircraft and subways.
d) High purity
Silicone rubber is exceptionally pure compared to other elastomers. Furthermore, it is physiologically inert, which consequently affects living tissues to a lesser degree than by exposure to other organic polymers. Hence, it is suitable for use in the food and medical industry. Additionally, to ensure that our products are safe for sensitive applications, some of Jehbco's products have certifications such as FDA CFR 21 177.2600 for food contact, AS/NZS 4020 for drinking water and USP Class VI for biological tests.
Due to its many advantages, silicone rubber is used in nearly every industry to improve the quality and function of various products and manufacturing processes.
For further information about the benefits of Jehbco's silicone products and how it could suit your specific application, please contact us.
References
Shin-Etsu Chemical Co. Ltd., 'Characteristic Properties of Silicone Rubber Compounds'. Shin-Etsu Chemical Co. Ltd., August 2016.
Wacker Chemie AG, 'Solid and Liquid Silicone Rubber: Material and Processing Guidelines'. Wacker Chemie AG, n.d.