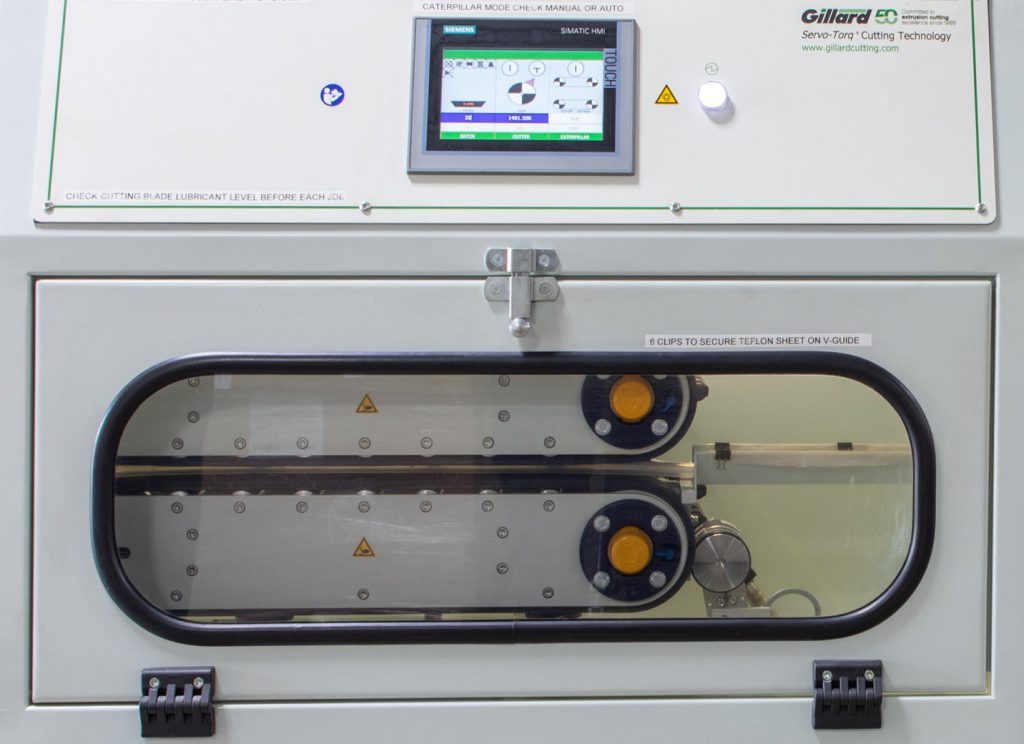 Silicone Extrusion Cut Quality
posted by:

Jehbco Silicones

No Comments
At Jehbco, silicone rubber extrusions are cut accurately to our customers desired lengths. Using our state-of-the art cutting machine we are able to produce precise and clean straight cuts. Our in-house cutting capability reduces the lead-time and cost for our customers.
Having a high quality cut is significant for not only the appearance but also the intended function of the extrudates. We design and develop in-house cutting tools and accessories to cut not only tubes and cords but also complicated profiles of various hardness. The right blade shape is determined based on our research.  We have extended our cutting capabilities to include silicone sponge extrusions which exhibit a high degree of difficulty in handling due to their low stiffness and hardness.
The cutting machine uses a flying knife type blade which ensures a uniform cut as the adjustable blade speed allows Jehbco to cut extrusions with a wall thickness of less than 0.1mm.
We also have the option of using stainless steel cutting blades for pharmaceuticals and food-grade applications. Moreover, the static from the cut pieces are removed using static-removal instruments to ensure dust and other air-borne particles don't adhere to the surface of the extrudates.
With our R&D we have optimized the cutting operations for high consistency and reliability thus meeting strict cut length tolerances. The tolerances adhere to our ISO 3302-1:2014 Rubber tolerance standard. Periodic calibrations are carried out and machine data is maintained as part of Jehbco's quality control processes. This is then audited yearly as part of our ISO 9001:2015 accreditation.
Our straight cut extrusions make sure the butt-joints in our gaskets are of the highest quality. We are currently studying and developing alternate cutting methods using ultrasonic blades for cuts that are not perpendicular to the length of the extrusion. For example, 45 degree cut for corner joint gaskets. Our use of cutting jigs makes sure the process is highly efficient and the cut lengths are error free.
Jehbco makes every effort to ensure our product fits your application. To match our products with your application, please see our applications page and contact us if you have any silicone queries.
References
Yarra, S., Gordaninejad, F., Behrooz, M. and Pekcan, G. (2018). Performance of natural rubber and silicone-based magnetorheological elastomers under large-strain combined axial and shear loading. Journal of Intelligent Material Systems and Structures, 30(2), pp.228-242.
Yarra, S., Gordaninejad, F., Behrooz, M. and Pekcan, G. (2018). Performance of natural rubber and silicone-based magnetorheological elastomers under large-strain combined axial and shear loading. Journal of Intelligent Material Systems and Structures, 30(2), pp.228-242.
https://www.gillardcutting.com/technical/faqs/which-knife-blade-should-i-use